The All New ArmUno 2.0
Desktop Robotic Arm Kit
Features Base Plain Bearing, Simplified Gripper Mechanism , Conformable Soft Jaws , Quick change End Effector Tooling, Ultrasonic Module HC-SR04 Bracket, Mounting holes for many popular Micro Controllers, Improved wire management, and More!! The ArmUno 2.0 Robotic Arm has been redesigned from the ground up yet still shares the same footprint and link geometry as the original Mearm and ArmUno 1.0 Robotic Arms.
NOTICE: The ArmUno 2.0 Robotic Arm Kit has launched! This is the successor to our ArmUno and MeArm robot arm kits. please use the kit help email supplied with your kit for any questions concerning assembly of your kit. New Updated tutorials are being made. Please excuse the any missing pages as we revamp microbotlabs.com, all will be in order soon. Thanks! , The Microbotlabs Team
Download MeCon Control Software for ArmUno and MeArm Robotic Arms
ArmUno 2.0 demonstration of real world robotics task. the arm is picking up sample objects, placing them on a scale, recording its weight and then sorting the objects by their weight.
This is an excellent example by one of our customers and highlights the main goal of microbotlabs kits, the ability to do real world robotics concepts on a desktop footprint at an affordable price.
Want share your ArmUno robot project?
Send us a link via your kits help email!
NEW! ROBOTIO NANO Arduino Compatible Robot IO Board. Perfect way to give your Servo Robot Project both Brains and Power!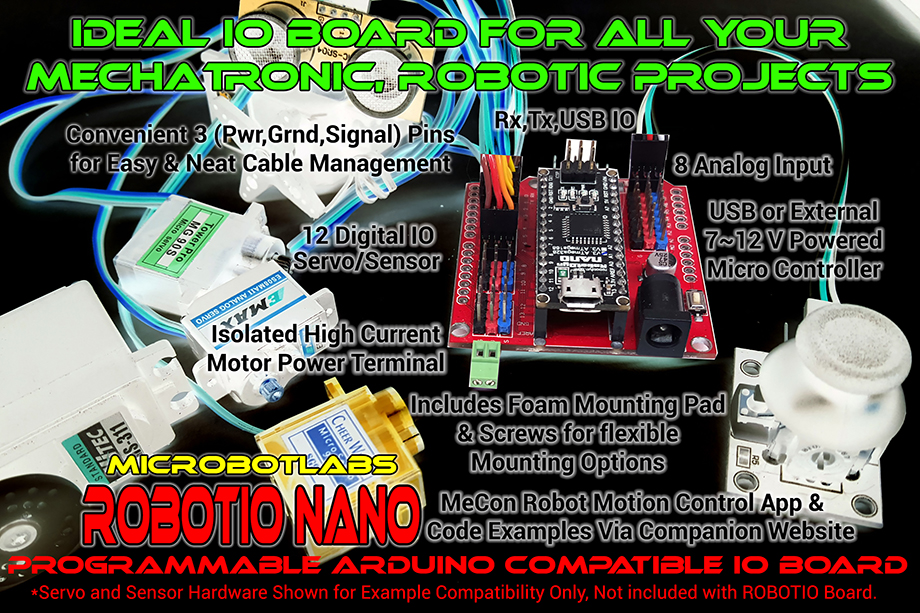 Microbotlabs - We Build Quality Robots
and other cool things...
We Design and Build Robotic and Electromechanical DIY kits for education and just plain fun! Learn how to build your own real robot while also learning how to program Arduino and other popular micro controllers. Being makers at heart we strive to provide the knowledge, tools and resources to enable others to make and learn.
Where can I purchase a Microbotlabs kit?
We have made our robot arm kits available on Amazon and Ebay. We plan to eventually have a direct purchasing option available from our website but for now we are putting our time into improving our kits and making new pages with robot related resources and information.
What makes Microbotlabs Kits so Awesome?
Our kits are designed with a makers passion and the desire to provide an enjoyable build experience to our customers. Our kits include more stuff! Every kit includes a download link for a fully licensed copy of MeCon Pro motion control software with teach and record functionality. Our kits and software are constantly being upgraded with more functionality and design refinements. Our Kits structural pieces are precision cut with CNC milling machines and with lasers beams!

Copyright © MICROBOTLABS