ArmUno 2.0 Robotic Arm Build Tutorial
This is the assembly tutorial for the Arm.Uno 2.0 Robotic Arm Kit. Watch the full assembly guide video or view the specific parts videos. fastener identification and location charts below for help with your robot building adventure. Please contact us Via the kit help email address found on your invoice if you cant figure something out or have a question or suggestions to improve it.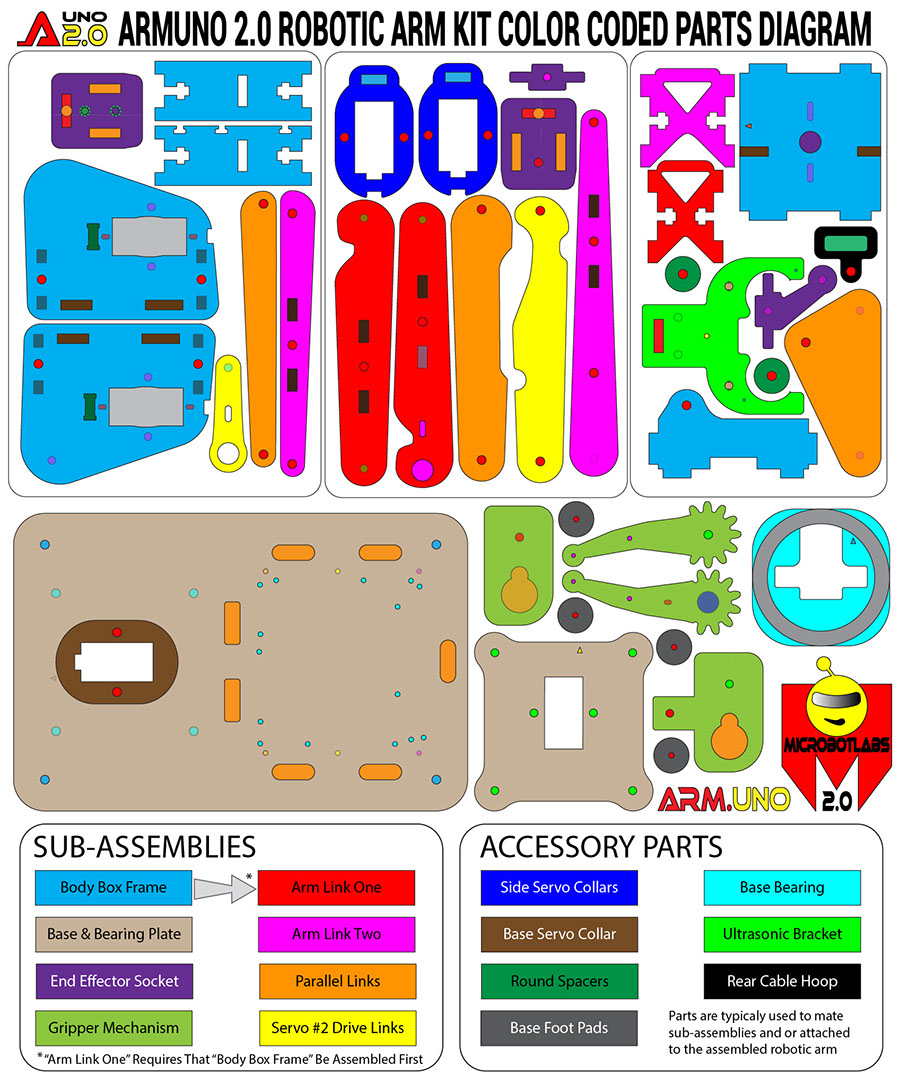 * Interactive ArmUno 2.0 Assembly Video Navigation Buttons. Click the Color Coded Parts and Subassembly Buttons of Interest to View Assembly Video of that Item. Click again to Hide the Video and View the ArmUno 2.0 Parts Diagram Again.
Sub-assemblies allow us to concentrate on a few of the robot arms many pieces at a time. they also give us more recognizable pieces to associate with images of the fully assembled arm. with one exception (red*) most of the pieces in the color coded chart above can be assembled to their mating parts of the same color in almost any order you choose. a few pieces (Accessory Parts) are used to mate sub-assemblies and or attached to the fully assembled robotic arm.
TRY IT!
Click on the buttons to view sub assembly videos ----->
ArmUno 2.0 New Fastener Set Size and Location Guide
NEW 2.0 FASTENER SET. So some of the V1 bolts wont be the same even for the same location. use the following bolt length location chart as a guide. in general since the material thickness is 3mm the bolt length will be equal or grater than the number of material thickness it has to go through.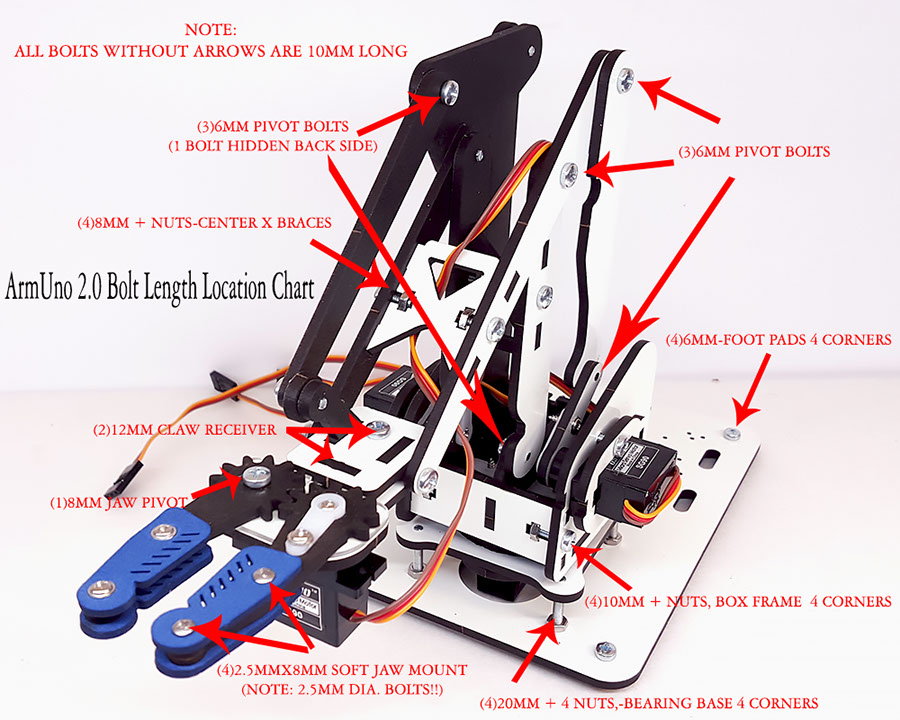 ROBOTIO NANO Brain Board Servo & Sensor Interface Quick Start Guide Video
For robotic arm kits purchased with the ROBOTIO servo control board option. after mechanical assembly of your robotic arm is complete you can hook up the servos and connect to MeCon software to start programing your robot. the above video guide will get you started. also good for a basic introduction to the MeCon software.
The Gripper Mechanism (the claw)
The claw actuator has bean greatly simplified and a more versatile mounting system is used that allows the gripper to be quickly oriented into a vertical position. this also will allow a convenient way to add addition end effector tooling such as alternate grippers and sensor brackets. the following images shows the new gripper and its mating receiver being assembled.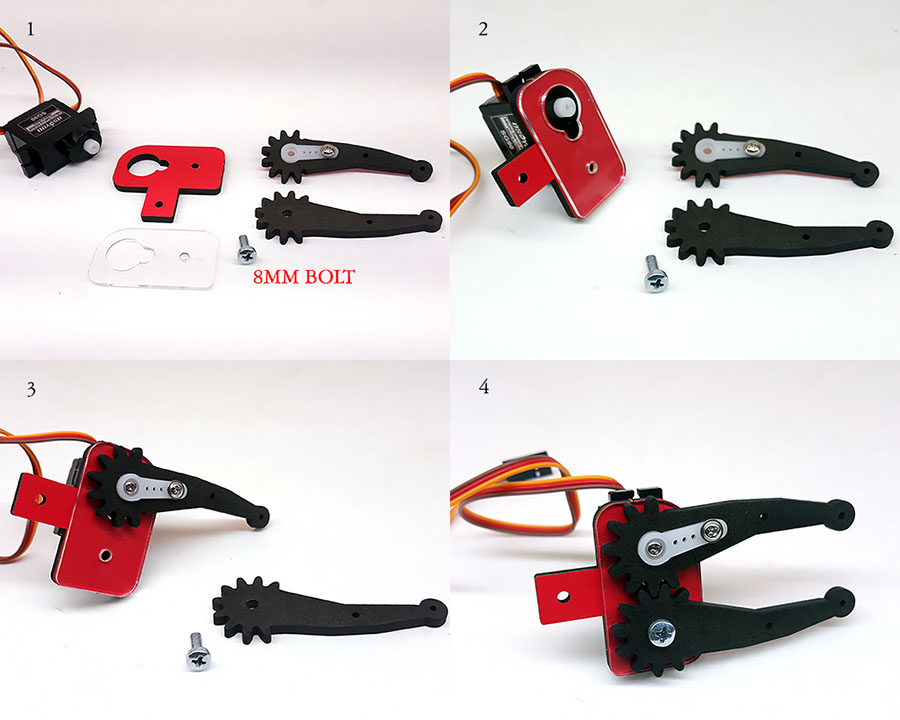 The Gripper Receiver (End Effector Tool Holder)

ArmUno Robotic Arm 3d Model Viewer
Use the 3d model viewer below to spin, zoom in and out to see how the robot arm pieces fit together. this is actually a model of ArmUno Version 1.0 but the mechanical parts are similar and connect in the same way so it should be helpful. we are concentrating on making assembly videos and images so it will be awhile until this model is updated to version 2.0. also use the above fastener guide chart as your reference to determine bolt size and placement for the ArmUno 2.0 kit.
More assembly guide tutorials on there way! GO ROBOT GO! .... GOOD ROBOT!
Microbotlabs works hard to make quality tutorials and guides for our robotic kits. We welcome any questions or suggestions, Please contact us if you need any assistance with your kit via the special kit help email address included on your kits packing slip.
Thanks!

Copyright © MICROBOTLABS